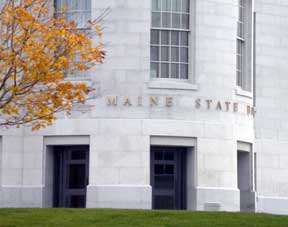 Disclaimer
The texts of bills available on this web site are translated from their native XML to Microsoft Word, and then from Word to PDF.
Unfortunately, due to the complexity of this process we cannot guarantee that the text available on the web in any format is 100% faithful to the original. If there is any question of interpretation, please contact the Legislative Information Office where you may request a correct paper copy or clarify any confusion which may arise.
The publications of the Maine State Legislature are made available on the Internet as a public service and reliance on any such information is at the user's own risk. The State of Maine, its agencies, officers and employees do not warrant the accuracy, reliability, completeness or timeliness of any information on the Maine State Legislature's web site and may not be held liable for any losses caused by any person's reliance on the information available on this web site.
---