About Office of Policy and Legal Analysis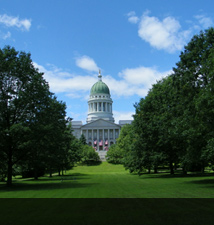 The Office of Policy and Legal Analysis (OPLA) is one of seven nonpartisan staff offices of the Maine State Legislature. It operates under the auspices of the Legislative Council and serves legislators and legislative committees by providing nonpartisan policy and legal analysis services to the Legislature's Joint Standing Committees, to Select Committees and to a variety of interim study commissions.
Office Hours and Location
OPLA offices are located in Room 215 on the 2nd floor of the Cross Office Building. Office hours are Monday through Friday 8:00 a.m. to 5:00 p.m. and other hours when the Legislature is in session.
OPLA Contact Information
Office of Policy and Legal Analysis
13 State House Station
Cross Office Building, Room 215
Augusta, Maine 04333-0013
Telephone: (207)287-1670
FAX: (207)287-1275
EMAIL: webmaster_opla@legislature.maine.gov
Website: https://legislature.maine.gov/opla